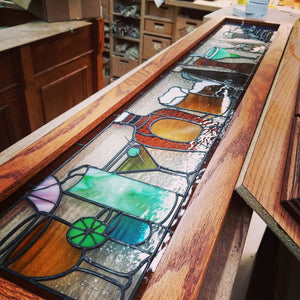 FAQs
You Have Questions. We Have Answers.
Installation is easy! A detailed set of instructions will be sent with your custom home bar. You can also check out this video.
Here is our standard material list:
• 5/8" Thick Black Melamine Cabinets with one adjustable shelf per cabinet
• Basalt Slate Laminate Server Top
• 3/4" Thick Solid Wood Bar Top and Bar Rail
• Solid Wood Posts and Moldings
• Wood Veneer Panels with Particlecore
• Soft Close Doors and Drawers
• Adjustable Legs to account for unlevel floors
• High-Grade Lacquer, resilient to liquor, beer and watermarks
• Finish: Stain, Sealed, Sanded and Lacquer (bar top receives two coats of lacquer for extra durability)
You can find our return policy here.
We warrant our products to be free from defects in materials and workmanship for a period of 3 years from the date of delivery. You can find more information by reading our full warranty here.
You can find our privacy policy here.
Typically you want
30-36" behind the bar for walking space
A bar top height of 42"
A server top height of 36"
A bar fridge opening space of 24"W x 24"D x 34.5"H
Typically you want to account for
A minimum width of 24" per stool
A seat height of 28-30"
A pull out distance of 24" from the edge of the bar
Please see the following image for our wood types and stains.
Yes, we do! You can order one here.
Unique home bars can be challenging to visualize. This is why we provide a fully rendered 3D video with our custom bars to ensure you get exactly what you are looking for. Here's an example of our fully rendered 3D videos.